Mansfield PA and Richmond Township in Tioga County PA
Tri-Counties Genealogy & History by Joyce M. Tice

| | | |
| --- | --- | --- |
| | Schools In Our Area | |
| | | |
| --- | --- | --- |
| Bradford County PA | Chemung County NY | Tioga County PA |
Mansfield High School Graduates 1978
Joyce's Search Tip - November 2008

| | |
| --- | --- |
| | Do You Know that you can search just the 700 pages of School Records on the site by using the Schools button in the Partitioned search engine at the bottom of the Current What's New Page? You can narrow your search by entering a township name and a surname and using the Find All Words option |
1960 view of Mansfield High School. Front section , formerly the gym - converted to auditorium, was built about 1927 attached to the old Brick School. In 1939, the Brick School was torn down and the new school built surrounding the central gym. The 1939 section on left became the Junior High School in the fall of 1959, and the High School is the new part on the right.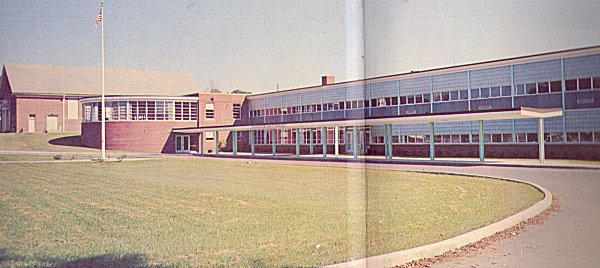 1968 Yearbook Photo
We now have a local history museum in Mansfield representing the area in and near Manfield.
Visit the History Center on Main Street at 83 North Main Street. We also have a locaton at 61 North Main Street.
Regular hours are noon to 3 T, W Th or by appointment.
Planning a Reunion? Be sure to include a visit to the History Center to see our Blue and Gold Room, Displays of yearbooks and ALL the graduates of this school. We like to have Welcome Home Receptions for our returning Mansfieldians.

If you have obituaries for classmates, parents siblings, that we have not includedon the class pages, please send them to us.
From the 1978 Manscript - Yearbook of Mansfield High School.
Return to Table of Contents for Mansfield High School Class Lists
| | | | | | |
| --- | --- | --- | --- | --- | --- |
| Surname | First Name Year | Year | Spouse | | |
| Abreu | Mary | 1978 | | | |
| Allington | Bonnie | 1978 | | | |
| Armstrong | Barbara | 1978 | | | |
| Bailey | William Craig | 1978 | | | |
| Baker | Walter | 1978 | | | |
| Belcher | Ervin | 1978 | | | |
| Belknap | Shirley | 1978 | | | |
| Bencetic | Teresa | 1978 | | | |
| Bently | Dean | 1978 | | | |
| Bixby | Jon | 1978 | | | |
| Bonson | Holly | 1978 | | | |
| Brewer | Pamela | 1978 | | | |
| Brion | Thomas | 1978 | | | |
| Butcher | Matthew | 1978 | | | |
| Butts | John | 1978 | | | |
| Cady | Sherri | 1978 | | | |
| Chamberlain | Lynne | 1978 | | | |
| Clark | Janelle | 1978 | | | |
| Clark | Kathleen | 1978 | | | |
| Cole | Guy | 1978 | | | |
| Colegrove | Alfred | 1978 | | | |
| Conrad | Denise | 1978 | | | |
| Cooper | Cheryl | 1978 | | | |
| Craig | John | 1978 | | | |
| Creeley | Tammy | 1978 | | | |
| Crippen | Jeff | 1978 | | | |
| DeWalt | Lloyd | 1978 | | | |
| Doud | Melodie | 1978 | | | |
| Earl | Penny | 1978 | | | |
| Edkin | Michael | 1978 | | | |
| Fahsbender | Mary | 1978 | | | |
| Farmulak | Linda | 1978 | | | |
| Fish | Ross | 1978 | | | |
| Frank | Tina | 1978 | | | |
| Giles | James | 1978 | | | |
| Green | Christina | 1978 | | | |
| Harvey | Linda | 1978 | | | |
| Hawn | Alan | 1978 | | | |
| Heater | Penny | 1978 | | | |
| Heidler | Allen | 1978 | | | |
| Hicks | James | 1978 | | 1960-1978 | Tioga County Memorial Gardens |
| Horning | Ann Marie | 1978 | | | deceased |
| Horton | Denise | 1978 | | | |
| Hufnagel | Karen | 1978 | | | |
| Jaquish | Daniel | 1978 | | | |
| Jay | Paul | 1978 | | | |
| Jeffers | James | 1978 | | | |
| Jenkins | Myles | 1978 | Deceased | | |
| Johns | Linda | 1978 | | | |
| Johnson | Cindy | 1978 | | | |
| Jones | Robert | 1978 | | | |
| Kasper | Brian | 1978 | | | |
| Kenyon | Bruce | 1978 | | | |
| Koloski | Milissa | 1978 | | | |
| Lockhart | Nanette | 1978 | | | |
| Maxson | David | 1978 | | | |
| McDonald | Steve | 1978 | | | |
| Mickelson | Carey | 1978 | | | |
| Miller | John | 1978 | | | |
| Morgan | Julie | 1978 | | | |
| Morris | Robert | 1978 | | | |
| Nevin | Miriam | 1978 | | | |
| Olmsted | Douglas | 1978 | | | |
| Owlett | Amy | 1978 | | dec. | |
| Pfluger | Karyn | 1978 | | | |
| Putt | Amy | 1978 | | | |
| Rudy | John | 1978 | 92769 | 1960-1985 | Oakwood Cemetery |
| Rumsey | Shelley | 1978 | | | |
| Ruskauff | Laura | 1978 | | | |
| Sabo | Timothy | 1978 | | | |
| Sargent | Fred | 1978 | | | |
| Saunders | Deborah | 1978 | | | |
| Scott | Thomas | 1978 | | | |
| Smith | Curtis | 1978 | | | |
| Smith | Terri | 1978 | | | |
| Strange | Mary | 1978 | DeWalt | | |
| Sweely | Linda | 1978 | | | |
| Talbot | Denise | 1978 | | | |
| Thomas | Douglas | 1978 | | | |
| Thomas | Gary | 1978 | | | |
| Thompson | Kathleen | 1978 | | | |
| Tice | Christine | 1978 | | | |
| Tice | Karen | 1978 | | | |
| Uhler | Jerry | 1978 | | | |
| Uhler | Tina | 1978 | | | |
| Watkins | Debra | 1978 | | | |
| Weaver | Virginia | 1978 | | | |
| Wells | J. Scott | 1978 | | | |
| Wilson | Diane | 1978 | | | |
| Wilson | Kathy | 1978 | | | |
| Yoder | Gregory | 1978 | | | |
| Sandefeldt | Carin | 1978 | | | |
| Basa | Paola | 1978 | | | |
| | Not Pictured | | | | |
| Bailey | Rhonda | 1978 | | | |
| Chamberlain | Paul | 1978 | | | |
| Harrison | Samantha | 1978 | | | |
| Higham | John | 1978 | | | |
| Roupp | David | 1978 | | d. 1987 | |
| Starkweather | Greg | 1978 | | | |
| Wood | Charles | 1978 | | | |
| Zdzinski | Stephen | 1978 | | | |
HICKS – James Lawrence Hicks, age 18, of Mansfield RD1, died Wednesday, June 14, 1978. Friends are invited to call at the Kuhl Funeral Home, Mansfield, Friday 2-4 and 7-9 PM. Funeral there Saturday at 1 PM. The Rev. Kermit Clickner. Burial Tioga County Memorial Gardens. Survived by parents, Lawrence and Donna Casselbery Hicks; two sisters, Mrs. Kenneth (Mary Jean) Leone of Lawrenceville, PA and Mrs. Gary (Connie) Fish of Mansfield RD1; three brothers, Robert of Baltimore, MD, William and Timothy at home; several aunts, uncles and cousins. Also 1 niece, 3 nephews. He was a graduate of Mansfield High School June 9, 1978, member of Mansfield High School Wrestling Team. The family will furnish flowers. Those wishing make donations to their favorite charity or to the Mansfield High School Wrestling Team.

RUDY, John Paul [SRGP 92769] – John Paul Rudy, 24, of Altoona, formerly of Mansfield, died in Mercy Hospital, Altoona on Sunday, June 2, 1985 after being struck by a car on 52nd Street in Altoona. Police said Rudy had gotten out of his car and was standing along the road talking to another motorist when he was struck by a car driven by David S. Cooper, of Altoona. Born in Blossburg, Oct. 22, 1960, he was a son of John and June Driebelbies Rudy. He attended Holy Child Catholic Church, Mansfield. A 1978 graduate of Mansfield High School, he was graduated from Indiana University of Pennsylvania where he was a member of the Theta Chi fraternity. He was a math and computer science teacher in the Hollidaysburg School District for three years. He was a member of PSEA, NEA, and HEA. Surviving, besides his parents, of Mansfield, are a brother, Bruce, also of Mansfield; a sister, Miss Beth Rudy, at home; and his maternal grandmother, Mrs. B.E. Driebelbies of State College. The funeral will be at 10 a.m. Thursday at the church, 242 South Main Street. Burial will be in Oakwood Cemetery, Mansfield. The Rev. Edward Huntsman, his pastor, will officiate. Friends may call at Scureman's Funeral Home, 130 South Main Street, Mansfield from 3:30 to 5:30 and 7 to 9 p.m. Wednesday, recitation of the rosary will be there at 9:15 p.m. Wednesday. – Wellsboro Gazette, 5 June 1985, p.8

TOMLINSON, Faith Ann - Faith Ann Horton, 56, passed away December 25, 2016 at her home. She was born on September 12, 1960 in Mansfield, PA to Kay Tomlinson. She retired from Letterkenny Army Depot where she had been a security specialist. She loved to collect Disney things and had visited Disney World in Florida several times. She loved her dogs very much.She is survived by her two daughters, Jetha Lynn Taylor of Colorado Springs, CO. and April (wife of Daniel) Horton of Chambersburg. She has one grandson, Nathaniel Horton of Chambersburg. She is also survived by her brother, Todd Crumb of Wellsboro. In addition to her mother she was preceded in death by her husband, LeRoy Horton, who died in 2014.The family will receive friends Thursday from 3 to 4 PM at the Kelso-Cornelius Funeral Home, Chambersburg. At 4 PM there will be a time of remembrance. Interment will be in State Road Cemetery, Tioga County, PA - Chambersburg Public Opinion, December 27, 2016

| | | |
| --- | --- | --- |
| Bradford County PA | Chemung County NY | Tioga County PA |