Tri-Counties Genealogy & History by Joyce M. Tice

Charles Stanton, WW1 Vet, D.S.C.
| | | |
| --- | --- | --- |
| Bradford County PA | Chemung County NY | Tioga County PA |
Joyce's Search Tip - January 2008

| | |
| --- | --- |
| | Do You Know that you can search just the 700 pages of Military Records on the site by using the Military button in the Partitioned search engine at the bottom of the Current What's New Page? |
Enlisted April 9, 1917 (at age 16), Honorably Discharged March 31, 1919,
rank Corporal.

He enlisted in Company L, Third Infantry, New York National Guard in Elmira. The Company changed to Company L, 108th Infantry, attached to the 27th Division. He fought with the British Expeditionary Forces.

He received the following medals:
Distinguished Service Cross
Purple Heart
World War I Victory Medal
British Military Medal

Don
---
TOWANDA DAILY REVIEW

Troy Soldier Given D.S.C. For Heroism In Souplet Battle

Another Bradford county boy – Corporal Charles Stanton, Jr., of 180 Elmira Street, Troy- has been awarded the Distinguished Service Cross for extraordinary heroism in battle. Awarding of the cross to the young Troy soldier is the second to be conferred by the commander-in-chief, in the name of the President, for especially heroic actions in battle of county soldiers.

Award of the cross to Corporal Stanton came as the result of his bravery in the hot engagement at Souplet, France, during the fighting on October 15, 1918. The official citation is as follows:

"Corporal Charles Stanton, Jr., A.S. 12115748. Company L, 108th Infantry. For extraordinary heroism in action near Souplet, France, on October 15, 1918. Accompanied by an officer and three other soldiers, Corporal Stanton made a reconnaissance of the River La Selle, the journey being made under constant and heavy machine-gun fire. To secure the desired information it was necessary to wade the entire distance. Home address, Charles Stanton, Sr., Troy, Pa."

Nothing was known at the young man's home of the signal honor accorded him until the news was communicated to Mrs. Stanton by a representative of The Daily Review. "It's news to me," was Mrs. Stanton's single glad expression when told of the honor paid her son.

Corporal Stanton was born in Troy borough on April 24, 1900, so that his heroic feat was made when he was only 18 years old. He attended the Troy High School and during his vacations worked on the farm of his grandfather, Walter Rockwell, near Troy.

In the fall of 1916 the young man went to Troy (actually Elmira) where he was employed by H. E. Ritchie in a grocery store. He enlisted in Company L Third Infantry, New York National Guard on April 8, 1917, this being Elmira's own company. After being sent Spartansburg the National guard became a past organization and the young man was enrolled in Federal service, the company changing to Company L, 108th United States Infantry, and being attached to the 27th Division.

Under Fire at Railroad

In May the company was sent to Binghamton for railroad guard duty and it was there that Private Stanton was first under fire. With a comrade he was guarding one of the important bridges near that city when he and his comrade was fired on by an unknown assailant riding a passing freight train. The soldiers returned the fire but failed to register any hits. The attack upon Stanton was made at 8:30 o'clock. Two shots were fired at him, both coming close to his body. The Troy soldier displayed his pluck and courage by coolly standing his ground and firing three shots in return at the assailant. The train was going so fast that it was impossible to tell whether any took effect. The attack upon Stanton was made in almost exactly the same spot where Private Frank W. Fonda, also of Company L, was struck and instantly killed by a Lackawanna passenger train several weeks previous. This attack occurred on the night of May 14.

On August 16 the company was transferred to Pelham Bay Park, N. Y. Later they were sent to Camp Wadsworth, Spartanburg, S. C., where Stanton received his first promotion, being made a first class private.

While the men were stationed at this camp they received much rifle and trench practice. First Class Private Stanton returned to his home last April for ten days and soon after his return to camp the company was sent to Newport News to await transportation to France. They embarked on May 17, 1918 under cover of darkness and moved from the harbor without the slightest sound.

Is Made Corporal

After reaching France young Stanton was promoted to Corporal. The company was soon sent into Belgium where they fought for several months with the British Army in Flanders. Later they participated with honor in the battles of St. Quentin and Cambrai.

Company L was in the first wave at the strongest point of the line in the battle of September 27-30, which resulted in the breaking of the vaunted unbreakable "Hindenburg Line," marking the final defeat of the Hun.

In letters received by his parents Corporal Stanton declared that he came out of this desperate battle without a scratch. On October 17 he received his first wound, a bullet in the left leg. A few minutes later he received another in the back, neither of which, however, proved serious as he returned to his company on November 8.

The last letter received, dated December 18, stated that he and his company was billeted in Laige, a small French town near La Mans. The young man is attached to the Empire Division which is the first complete combat division ordered home, and his parents are expecting his return within the next several weeks.

Stanton's company – Company L – according to a statement of Corporal Wilbur L. Simcoe telling of the "warm reception" given the Elmira unit when it was ordered over the top on September 29, had only ten men left alive and unwounded. Two hundred and fifty men had started in the attack.

It was Stanton's company which was signally honored by passing in inspection parade before His Majesty King George of England on August 6. The inspection was made on one of the drill grounds of France. Company L being selected as the prize company of the entire division. Captain Riffle commanded the men in this drill. Company L also was selected to represent the 27th Division in a big military parade in France. One company from each division was thus honored.
Charles Stanton is In English Hospital
In a letter from one of the Bradford county boys in France it is learned that Charles Stanton of Troy again went "over the top" on Oct. 16th and on the 17th he was wounded. His injuries are to the left leg. He was in an English convalescent hospital when the letter referred to was written on Oct. 22.

CHARLES STANTON TO BE HONORED BY RECEIVING BRITISH HONOR MEDAL
Corporal Charles Stanton of Troy, Pa., who will be decorated Saturday at New York City by the Prince of Wales with the British Military Medal. He was a member of Company L ;and has been awarded the Distinguished Service Cross by the United States Government.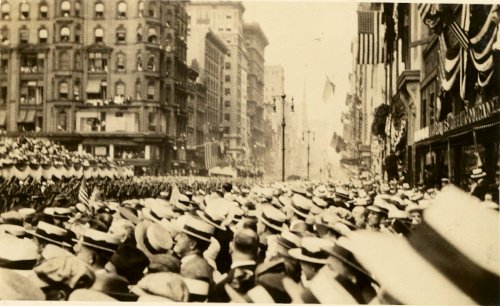 "Parade in New York City when Charles Stanton came home from World War I 1919."
Ceremony Honoring Military Heroes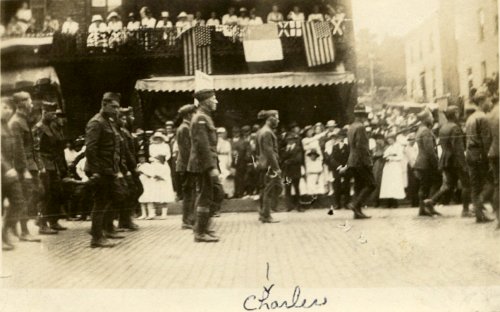 "Welcome Day Home for Soldiers held in Towanda, PA"
DEATHS
STANTON-Charles E., 70 of Sylvania, died Friday (August 14, 1970).
Funeral services will be held at the Vickery Funeral Home Monday at 2 p.m. with interment in Sylvania Cemetery.
The Brooks-Flick American Legion Post No. 49 will conduct military services at the grave.
In lieu of flowers, the family requests contributions be made to the Brooks-Flick Memorial Fund.
Gerald W. Vickery
Funeral director
Troy, Pa
| | | |
| --- | --- | --- |
| Bradford County PA | Chemung County NY | Tioga County PA |

Published On Tri-Counties Site On 11/14/2003
By Joyce M. Tice
Email: JoyceTice@aol.com

You are the visitor since the counter was installed on 14 NOV 2003