Tri-Counties Genealogy & History by Joyce M. Tice
History of Bradford County by Craft
| | | |
| --- | --- | --- |
| Bradford County PA | Chemung County NY | Tioga County PA |
History of Bradford County 1770 - 1878

The Reverend Mr. David Craft

Asylum Township

Retyped by Bruce Preston



HISTORY OF THE TOWNSHIPS
ASYLUM
ORIGIN OF NAME
The name of Asylum was given to this town by the French refugees from the revolution of 1798, who settled herein, as more fully set forth in the general history of the county.




SITUATION
It is situated on a bend of the Susquehanna, which sweeps to the northeast , then gracefully curves back and forth, and finally sweeps back again to the southeast to the same general course pursued by it through the county.
The township lies between the townships of Towanda and Monroe on the west, Albany on the southwest, and Terry on the south, the river forcing the boundary on the north and east, between it and the townships of Wysox, Standing Stone, and Wyalusing.



DRAINAGE
The township is watered and drained in the interior by Bennett's and Durell's creeks, and Ellis' creek, a tributary of Bennett's, the two former taking a northeasterly course through the central and southern-central part of the town, and Ellis' coming in from the western part, in the Ellis Hill district.
SETTLEMENT
Stephen Durell located at the mouth of the creek since named in his honor, Durell creek in 1789 or 1790, and built a house and saw-mill there. He was said to be a quiet, steady, and respectable man, and somewhat advanced in years when he came. In 1788 he was ensign in the "Wyalusink" company of the upper battalion of Luzerne county militia. He was probably from Connecticut.
In the fall of 1782, Benjamin Ackla, Richard Benjamin, and Amos Bennett came to what was afterwards called Bennett's creek and built some log houses, and in the spring following moved their families in from Wyalusing where they had been living for some time previously. They were originally from Florida, near Goshen, in Orange Co., N. Y. Amos Bennett came to Wyalusing, as early, probably, as 1783-84, and lived there some five or six years. He built a little tub-mill at the falls just below the road on Bennett's creek. The ruins of a saw-mill now mark the site. He had a house on the flats below the present residence of William Storrs. He died in the spring of 1811, at the age of sixty-five years, arid his wife followed him the next year.
The children of Mr. and Mrs. Bennett were Amos, Jr., Thomas, John, David, Nathan, Benjamin, Susan, Hetty, Hannah, Prudence, and Martha. Hannah married Benjamin Ackla, and Martha married Richard Benjamin, who came to Bradford County with Amos Bennett, Sr. Hetty married Justus Seeley, who came in from Canada, to which place the family returned about 1800. Prudence married Jacob Strickland, of Wysox, and moved west about 1811. Amos, Jr., married Amy Wilcox, and moved to Sugar creek, near Joshua Bailey, where he died. Thomas went to the Genesee, married, lost his wife, and died insane. John married Hannah Vargison, and moved to Albany, near the old Schoonoven place. Nathan also went to the Genesee country, married Polly Ellsworth, and joined the Mormons. Truman Bennett, of Terry, is his son. David also married in the Genesee country, and died there. Benjamin married Betsey Abbott, a sister of Mrs. Elias Vaughan, and lived on the Storrs place. He was drafted in the War of 1812, and marched as far as Danville, where the company was discharged.
Richard Benjamin lived where H. L. Haight now lives. His children were Jonathan, John, Patty, Polly, Peter, David, Jesse, Sally, Hetty, Betsey, and Joshua, besides two who died in infancy. Jonathan married Leah, daughter of Benjamin Ackla, and lived on the Seeley hill, and died Feb. 1, 1847, aged seventy-seven years. The property is now owned by William Storrs. They reared eleven children, all of whom, with their mother, were living, July 30, 1874, in the neighborhood. John married Patty Vincent, and for his second wife, Hannah (Johnson), widow of his brother David. He lived where his son Harry lived in 1873. Of eleven children of his but two survive. Patty married Amos Vargison, and Polly married Samuel Chilson.
Benjamin and Hannah Ackla reared eleven children, Betsey, Amos, John, Anna, Leah, Phebe, William, Jonathan, Polly, Benjamin, and David. Mr. Ackla died April 26, 1835, aged eighty-two years.
Deacon Reuben Wells and a Mr. Shaw came to the Gilbert place at an early day and planted a piece of corn, stayed until it was grown and hoed, and then went back to Connecticut for their families. Their bill of fare was a meagre one, fish being the only article, and that served without salt. They varied this, however, on Sundays by Swimming the river and partaking, at Mr. Fitzgerald's, of what buttermilk and mush they could stow away. They lived in a log house near the spring, a few rods below the present residence of Richard Gilbert. Deacon Wells after-wards went to Wyalusing, and subsequently to Bridgewater, Susquehanna Co.
Samuel Gilbert came from Colchester, Conn., about 1790,and lived a Kingston, and then moved to the farm now occupied by Richard Gilbert. Here he rented a piece of land of the French, who were just beginning their settlement, and he afterwards bought the farm of the Asylum company. The appliances of comfort of the neighboring French considerably mitigated the usual hardships of the pioneers. Samuel Gilbert was born March, 1742, and died Oct. 12, 1813. He married Mary Dodge, June 12, 1769. She was born Sept. 20, 1749, and died Jan. 7, 1833. Their children were Lydia, Irene, Hannah, Eunice Anne, Fanny, Daniel, Samuel, Jr., and Oliver.
Charles Homet emigrated from France to America in January, 1793, and settled in Asylum in 1796. He was one of the French families who remained in Bradford, and did not return after the restoration in his native land. He died Dec. 29, 1838, in the seventieth year of his age. His wife, Theresa Schillinger, preceded him, Jan. 3, 1823, aged sixty-three years. She was a native of Strasbourg, France. Their children were Charles Frederick, Francis Xavier, Harriet, and Joseph. Mr. Homet married for his second wife Cynthia Sickler, in 1827, by whom he had one daughter, the wife of E. T. Fox, of Towanda.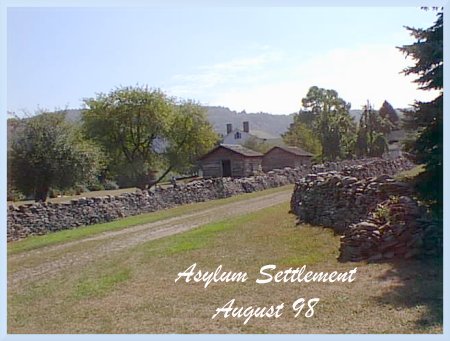 Anthony Vander Pool came from Kinderhook, Columbia Co., N. Y., about 1790, to Bradford County. He was the ancestor of the large family of that name now in Bradford. His first stopping place was Aquaga, where he remained a year or two and then came to Durell's creek, and from thence moved into the French settlement and engaged in the employ of that colony. He built a small log mill on Fowler Creek and lived there four or five years, but, being despoiled of the title to his land, removed to Wyalusing, and after a short time moved to the hill near Moody's pond, where be died, aged ninety-nine years, in the spring of 1838, and was buried on Ellis hill. Martin Van Buren married a niece of Mr. Vander Pool, the daughter of a brother in Kinderbook. Abraham Vader Pool, now a resident of Bradford County, is a son of Anthony Vander Pool, and from him the above facts concerning his father were obtained.
Anthony Vander Pool's children were William, Anthony, Richard, Mary, Peter, Samuel, Vina, Abraham, Henry, Catherine, and Eleanor or "Lane," nearly all of whom are dead.
Isaac Wheeler came into Asylum along" with Anthony Vander Pool. He was also from Kinderhook, and was a drummer in the Revolution. He was an intelligent, active, hard-working mechanics but unfortunately was addicted to drink; and never accumulated property. His mechanical genius, expended on the manufacture of spinning-wheels, chairs, etc., and his pension, supplied his few wants. He moved to Indiana in February, 1822, where be died. He married Eleanor Johnson, and their children were Mary (Mrs. Abraham Vander Pool), Kate, Peggy, Margaret, Nicholas, Samuel, and Richard. None of these are now living in Bradford County.
Nicholas Johnson, a brother of Isaac Wheeler's wife, came also from Kinderhook, some time between 1797 and 1800, but located at first at Towanda, where be lived for several years, and then settled in Asylum, and finally removed to Ohio, 1832-33. About two years after Nicholas Johnson came into the county his brother Richard also came, but never gained any permanent location, and, with his wife, is buried at Frenchtown.
Richard Wheeler, a brother of Isaac Wheeler, also came about the time the Johnsons did, but returned to New York, and finally came back again, and died here. Ambrose Vincent, who married a sister of Mrs. Isaac Wheeler, came in 1804-6. He was killed at Wysox, in 1822 or 1823, by the caving in of a well. His only son, William, married Mary Cornelius.
Henry Cornelius married another sister of Mrs. Wheeler, was a Revolutionary pensioner, and came into the county soon after the Johnsons. He died on the mountain below Towanda, on a little farm he bought there.
Samuel Seeley was, Revolutionary soldier. He came to the Connecticut grant before the war. After the war be came back to look after his family, but could not find them. Thinking they were killed, or had died, be went back to Goshen, N. Y., from whence be originally came, where he married Miss Deborah Benjamin, a. sister of Richard Benjamin, and in 1802 came to Wyalusing creek, where he lived a few years, and then removed to the Herrick place, where he remained some seventeen or eighteen years, and then removed to the State of New York, where be resided twenty-one years. While there be instituted measures to secure a pension, and going to Crawford Co., Pa., to get the certificate of' the captain of the company in which lie served in the war, he found, much to his surprise and pleasure, the prothonotary of that county to be the husband of his daughter, born just after be was drafted into the army. His remaining children (be had three at the time he was drafted) were living in that vicinity. From them be learned his family had been driven off by the Indians, and everything in their neighborhood had been destroyed. In 1827 he came back for a short time to where Keizer now lives. In 1815 he built a saw-mill near Myron Frisbie's, but ere it was finished Hollenback served an ejectment on him, and he abandoned the place. He died in 1840, at the age of eighty-eight years.
The Chilson family were early settlers in the town, and were also from Florida, N. Y. Samuel and Albert were the heads of the family, but Albert, after two or three years, moved west. Samuel Chilson lived on the Ackla place, and died February, 1846, at the age of eighty-five years. Samuel Chilson (2d), Jehiel, and Joel, nephews of the elder Samuel, came to the county about 1811, a brother, Asa, coming in 1809. Robert, George, Anson, and William were also brothers. Robert came in 1814, and Anson soon after the War of 1812 had closed, he serving therein. After some seven years he removed to Horseheads, N. Y., where he passed the remainder of his life. Robert lived and died on the farm now occupied by his son Benjamin, his death occurring about 1860. William came in 1813 removed to Smithfield, where he died. He lived with his brother Samuel in Asylum a number of years. Asa, after some twelve years, returned to Florida, where he died from an injury received in sharpening a scythe, terminating in lockjaw. Samuel Chilson (2d) died at Frenchtown. Nathan Bailey, Harry Ellsworth, John Stringer, and Joseph H. Ellis were all among the early settlers.



MACEDONIA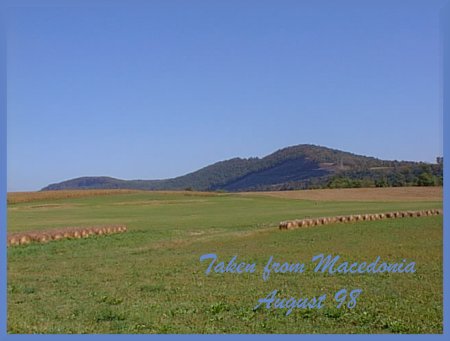 Solomon Cole was probably the earliest settler in this part of the township of Asylum, and came thereto first before the battle of Wyoming. His son Samuel was killed in that massacre, and he himself was also present there. Molly Cole's husband was also killed at the same time. Mr. Cole owned at one time all of the land lying in the bend of the river at this point. He went into the Genesee country and died there. A son, Solomon, succeeded to a part of the tract in or about 1796. Philip Fox, who married a sister of Solomon Cole (the second), was residing in this
place when his brother-in-law came. Three brothers of Solomon also came, Elisha, Abishai, and John. Abishai lived on the Kellum place, John lived near Solomon, and Elisha owned the farm where Warford resides. He subsequently removed to Towanda creek, a little below Monroeton, where Salisbury Cole now resides. Abishai and John moved out of the State north and west, and never returned. Solomon died on his farm and was buried in Macedonia. His children were Samuel, Sally, Daniel, Benjamin. Solomen, and John, who grew up to maturity. Samuel died in the town, Sally married a Mr. Richards and lives in Warren, Daniel owned the Bishop farm, Benjamin died in Genesee at his grandfatber's. Rev. Elisha Cole, of Towanda Creek, was a son of Samuel Cole. Moses Warford and Benjamin Coolbaugh were among the earliest settlers. The widow of John Cole, a son of Solomon Cole, Sr. (the second), is still living, in the county, and has given sonic of the facts relative to the Cole family.
Molly Cole was once met by an acquaintance, mounted on a horse, who accosted her rather lugubriously, thus: Good-morning, Molly ! How do your sins appear this morning?" " On horseback, sir !" was the quick, incisive response of the lady.
Sartile Holden came from Vermont. He had pursued an absconding debtor into the State of New York, and by taking, lumber and staves had secured his debt. These he attempted to run down the river (Susquehanna), but his raft lodged on Cole's island. He then removed his lumber to the shore, near Mr. Birney's, in Standing Stone, and being a cooper, worked up his staves into barrels. While engaged on this job be became acquainted with the country, bought the tract on which he afterward lived, and moved his family here in 1802. His family consisted of four sons and three daughters. Three of the former and one of the latter only accompanied him, however, to Pennsylvania. The title to Mr. Holden runs thus: Warrant to Jeremiah Talbert, March 16, 1774. Survey of Nov. 13, 1774. Deed to Holden from Talbert, Aug. 26, 1808. Patent to Holden, Nov. 20, 1823.
Jabez Sill came into the town in 1816, with his son Jabez, who is yet a resident of the town. He was at the battle of Wyoming, though but fourteen years old, and stood sentry at the fort during the fight. He died at his son's house, with whom he had lived since 1830, in July, 1838, aged seventy-five years.
Richard and Charles Townley were early residents of the town, but removed to Tompkins county, N. Y., subsequently. They conveyed their interest in lands to M. de Noailles. Richard Townley had ten children, five of each sex, and was a prominent citizen in New York ; was judge of the county courts, and a member of the State legislature for several terms. He died on the firm he settled on in 1838. Charles Townley had two sons and one daughter; was a farmer, a deacon in the Baptist church, highly esteemed, and died in 1820.



SCHOOLS.
About 1798 a log school-house was built on the ridge below Israel Smitb's, and the first school taught here was presided over by a son of the Emerald Isle, named William McCarty. The returns of the school year ending June 1, 1877, give the following, exhibit of the status of educational privileges in the town of the present: seven schools were taught, averaging five months each ; three male and four female teachers were employed, the gentlemen receiving an averaae of $24.75 per month, and the ladies $15.04 salary; 167 boys and 120 girls attended the schools. Five mills were levied on the dollar for school purposes, and one mill for building purposes, the tax amounting, to $854.97. The amount received front the State was $219.85. Teachers' wages amounted to $745.64, and other expenditures to $233.36.



REMINISCENCE
Amos Bennett and family were at Wyoming at the time of the Indian attack, and were living there in a log house. During the process of the battle, a party of Indians came near and were discovered. Prudie, out of curiosity, opened the door, but was instantly pulled back into the house, and the door reclosed. Scarcely had the inquisitive girl been dragged into the house, when a bullet struck in the doorpost, where she had stood a moment before.
One of the Frenchmen at Asylum committed suicide. Mrs. Abraham Vanderpool relates that about eleven o'clock one night (when she was a little girl) the family heard some one scream, but it being heard but once, no notice was taken of it. The next morning some of the negroes came to inquire about their master, and her father (Isaac Wheeler) went with them, and soon found him sitting on the ground, with a handkerchief tied about his neck, and the corner of it to a bush, the spring of which had choked him to death. He had lost some money, and on account thereof became insane.



A MACEDONIAN CRY
The name of Macedonia was given to the Cole settlement by reason of a sermon preached by Amos Akla, in which the words " Macedonia," " Macedonian cry," " Come over and help us," etc., were used very freely. The boys took up the phrases, and called the settlement Macedonia, a cognomen which has ever since clung to that part of the town.



POPULATION
In 1850 Asylum contained 820 souls, eleven of them being colored. In 1860 there were 1241, and in 1870, 1155. Of these, 47 were foreign born, and 60 were colored.