| | | |
| --- | --- | --- |
| Bradford County PA | Chemung County NY | Tioga County PA |
Tri-Counties Genealogy & History by Joyce M. Tice
Bentley or Greene Cemetery, Town of Veteran, Chemung County NY
Joyce's Search Tip - December 2007 -

Do You Know that you can search just the 860 pages of Chemung County Cemetery Records on the site by using the Cemeteries -Chemung button in the Partitioned search engine at the bottom of the Current What's New Page? If you use that partition follow these steps to search just one cemetery.
1. Choose Cemeteries - Chemung
2. Enter part of the cemetery name [ie Comfort or Carr] AND a surname.
3. Choose the Find ALL Words option. Then it will find just the pages with that surname in the one cemetery you indicated.

---
Bentley Cemetery
Veteran, Chemung County, New York
Greene / Bentley Cemetery


This small cemetery is located on the West side of NYS Route 14N just as you leave the village of Millport, Town of Veteran, Chemung Co., N.Y. When the new road was put through this area many years ago, approximately half of the stones in the cemetery were destroyed. This updated listing done on November 27, 2006 is a combination of the reading from the 1930's and an actual reading done on Sunday November 26, 2006. On that date all of the stones were photographed and placed on a CD. A (+) indicates the whole stone or part of it still exists. A (–) indicates the stone no longer exists due to it being missing / destroyed. The next door neighbor does a nice job mowing in front of and trimming between the existing stones.

Submitted by Tim Rodabaugh, Town of Veteran Co-Historian - December 2006

+ Bentley, Benjamin died 2 May 1849 ae 26y2d

- Bentley, Sarah E. died 23 March 1817 ae 7m d/o Benjamin & Jane Bentley

+ Denson, Beriah died 23 September 1830 ae 1y4m s/o John & Caroline Denson

+ Denson, Caroline died 7 August 1852 ae31y3m13d w/o William Denson

+ Denson, Mary died 3 March 1848 ae 8m d/o William & Caroline Denson

+Denson, Mary E. died 9 May 1846 ae 14y8m5d d/o John & Caroline Denson

+ Greene, Calvin died 10 February 18?? Ae4m10d s/o Calvin & ???? Greene

+Greene, David died 19 May 1839 ae 33y8m21d

- Greene, Olive died 10 April 1836 ae 2m d/o David & Esther Greene

+ Greene, Sarah Ann died 30 January ???? w/o Hiram Greene

+ Lane, Harriet died 24 November 1840 ae 2y d/o George & Harriet Lane

+ Nickleson, Lorinda died 25 November 1835 ae 23y w/o John Nickleson

+Owins, Mary born 21 Aug 1788 died 3 May 1854

"Farewell Mother, until we meet again"

- Pennoyer, Betsey born June 1774 w/o John Pennoyer

+ Shannon, Mary Arvilla died 16 May 1838 ae 1y11m4d d/o Thomas & Mehitable Shannon

+ Shannon, Eunice died 11 January 1841 ae 11y d/o Thomas & Mehitable Shannon

+ Tanner, Aaron J. died 10 April 1836 ae 2m22d s/o Phinney & Lydia Tanner
---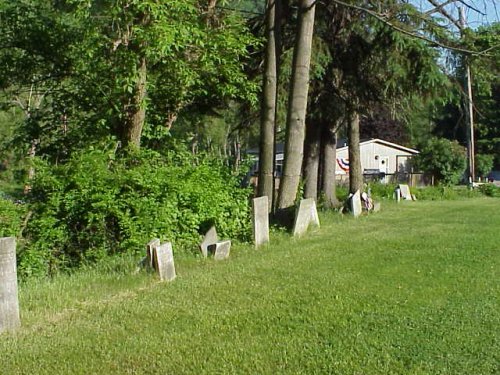 ---
Version Below is from DAR Listing of 1930s.
---
Copied from DAR records by Ralph Weller and retyped by Mary PARIS Copp, formatted for the web by Joyce M. Tice Original listing from 1930s
---
At Millport, NY, by the side of the main highway. The new road destroyed about half of the cemetery but this is the list of what is there now, and those marked, that were destroyed. The part left is abandoned and grown to brush.
| | | | | | |
| --- | --- | --- | --- | --- | --- |
| LAST NAME | FIRST & MIDDLE NAMES | BIRTH DATE | DEATH DATE | AGE AT DEATH | INSCRIPTION |
| GREENE | Sarah Ann | | 30 Jan ?? | | w/o Hiram Greene |
| BENTLEY | Benjamin | | 2 May 1849 | 26yr 2da | |
| BENTLEY | Sarah E. | | 23 Mar 1817 | 7mo | d/o Benj. & Jane Bentley |
| DENSON | Mary E. | | 9 May 1846 | 14yr | d/o John & Caroline Denson |
| DENSON | Beriah | | 23 Sep 1830 | 1yr 4mo | d/o John & Caroline Denson |
| SHANNON | Eunice | | 11 Jan 1841 | 11yr | e/o Thomas & Mehitable Shannon |
| SHANNON | Arvilla | | 16 May 1838 | 1yr 11mo | d/o Thomas & Mehitable Shannon |
| DENSON | Mary | | 3 Mar 1848 | 8mo | d/o William & Caroline Denson |
| LANE | Harriet | | 24 Nov 1840 | 2yr | d/o Geo. & Harriet Lane |
| PENNOYER | Betsey | Jun 1774 | | | w/o John Pennoyer |
| DENSON | Caroline | | 19 May 1839 | 21yr | w/o William Denson |
| GREENE | David | | 19 May 1839 | 33yr | |
| GREENE | Olive | | 10 Apr 1836 | 2mo | d/o David & Esther Greene |
| TANNER | Aaron J. | | 10 Apr 1836 | 2mo | s/o Phinney & Lydia Tanner |
| NICKELSON | Lorinda | | 25 Nov 1835 | 23yr | w/o John Nickelson |
| OWINS | Mary | 1788 | 1854 | | "Farewell, Mother, until we meet again" |
| | | |
| --- | --- | --- |
| Bradford County PA | Chemung County NY | Tioga County PA |

Published On Tri-Counties Site On 23 MAY 1998
By Joyce M. Tice
Email: JoyceTice@aol.com

You are the visitor since the counter was installed on May 23, 1998. -
Page relocated & Counter reset 11 OCT 2003