Tri-Counties Genealogy & History by Joyce M. Tice

Faithful Companions Pet Cemetery, Smithfield Township, Bradford County, PA
| | | |
| --- | --- | --- |
| Bradford County PA | Chemung County NY | Tioga County PA |
| | | |
| --- | --- | --- |
| Bradford County PA | Chemung County NY | Tioga County PA |
Joyce's Search Tip - December 2007 -

Do You Know that you can search just the Bradford County Cemetery Records on the site by using the Cemeteries -Bradford button in the Partitioned search engine at the bottom of the Current What's New Page? If you use that partition follow these steps to search just one cemetery.
1. Choose Cemeteries - Bradford.
2. Enter part of the cemetery name [ie Ballard or Berrytown] AND a surname.
3. Choose the Find ALL Words option. Then it will find just the pages with that surname in the one cemetery you indicated.

---

See also - Bradford County Cemetery Addresses
This Cemetery does not show on any previous lists, but I ran across it just south of East Smithfield on the road to Burlington. I am including it with just photos for the time being. My initial reaction was that I would probably not include a listing, but on second thought since most of the families include their names on the tombstone of their pet, it is information about them that their descendants a century from now may find interesting. It does tell us something about the people who love their pets enough to create a memorial for them. And for those of us who are animal lovers, and we are many, the inscriptions and messages of love that with which these pets have been commemorated are very touching. So, perhaps someday, when other cemetery listings are complete, we may include the beloved pets of our population. These have occurred just in the 1980s and 1990s,so it is a new cemetery. The present photos include an overview and a couple of representative stones. A few inlcude the pet's photo. The cemetery is well maintained and many graves have new flowers on them. It is far from the smallest cemetery in the township and is growing as several new graves were present. My own little Enki visited the cemetery with me, and I do hope she does not have to be here anytime soon.
---
---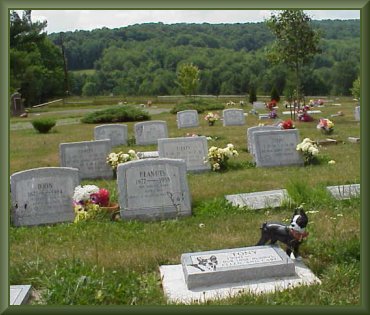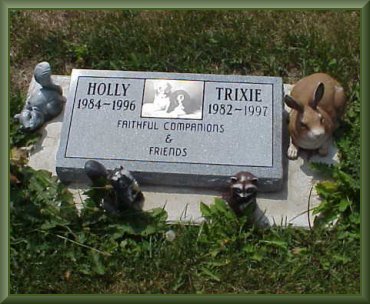 OBITUARIES
BEEMAN Barbara H. James 
On the evening of Tuesday, Sept. 4, 2012, Barbara Helen Beeman James of Sayre died quietly at Bradford County Manor where she had been residing since the spring of this year. She was 80 years of age.  Born Aug. 3, 1932 in Lackawana County, she was the daughter of Nolan and Helen (Otis) Beeman. The family relocated the Troy area, where she attended Troy High School, graduating with the class of 1950. In addition to being a mother and homemaker, Barbara was employed as a health care aide with Martha Lloyd Community Services in Troy, retiring in 1992. She also found time to serve as a board member and eventually president of the Bradford County Humane Society, as well as being a tutor with the Bradford/Wyoming County Literary Society, and published five books.  Her hobbies included reading, writing and quilting. Of paramount importance was her faith in the Lord, and she enjoyed sharing in the Christian fellowship with the New Generation Church in Milan.  Barbara was preceded in death by her parents, her sister, Jeanne Newberry, brothers Dale Beeman and Larry Beeman, infant son Peter Lynn Brown; daughter Leesa Williams and son-in-law Larry Williams, grandsons Trevor Rockwell, Terry Dale brown, Tuff Brown and infant grandson David Wayne Ostrander, her first two husbands, Charles Brown and Ramon Morgan, and sister-in-law Mildred Beeman.  Surviving are her daughter Donna (John) James of Sioux City, Iowa; her sons, Terry Brown of Salters, S.C. and Brad Morgan of Lexington, S.C.; brother Robert Beeman of Luthers Mills; brother-in-law Dan Newberry of Harvey's Lake; her beloved grandchildren and great-grandchildren; one great-great-grandson; many loved special friends; and former husband Edward James; Interment will be at 11 a.m. on Saturday, Sept. 8, 2012 at Faithful Friends Pet Cemetery, 2919 Rolling Hill Rd., Ulster, plot location Garden of Memories, Row 2, no. 15. At 12:30 p.m., there will be an informal memorial service at New Generation Church, Route 220 in Milan, with Pastor Doug Abbey officiating. A fellowship luncheon will follow. The family will provide the flowers and memorial contributions may be directed to the Bradford County Humane Society. Professional services have been entrusted to Morse & Kleese Funeral Home Inc., Canton.   Towanda Daily Review – September 7, 2012      
Subj: Inhumation, Faithful Companion Pet Cemetery
Date: 04/30/2000 7:48:06 PM Eastern Daylight Time
From: rjm001@epix.net (Dick McCracken)
To: JoyceTice@aol.com (JoyceTice)
Joyce,
Was just going over some of the cemetery listings and noted you include Faithful Companion Pet Cemetery, Smithfield Twp, Bradford Co.
There is at least one human buried in this cemetery; it was reported to me by the surviving spouse of the veteran during a visit to my office to
pick up a flag holder and flag for the grave.
From the graves registration data base:
Davis, Martin Frank
b. 11 Aug 1921; Charleston Twp, Tioga Co, PA
d. 9 Jan 1994; Elmira, Chemung Co, PA
WWII; Cpl; Army Air Corps (AAC). Privately purchased headstone.
(There should be a flagholder and flag on the grave).
Informant: Dorothy Davis (wife); 907 Breesport Notch Chemung Road, Lot 25; Lowman, NY 14861. 607-732-5345.
As I recall, I later heard that there was a second person buried with his or her pet in this cemetery.
Dick McCracken
Towanda, PA
| | | |
| --- | --- | --- |
| Bradford County PA | Chemung County NY | Tioga County PA |

Published On Tri-Counties Site On 07/2/01999
By Joyce M. Tice
Email: Joyce M. Tice

You are the visitor since the counter was installed on JULY 20, 1999 Counter reset when page moved 27 JAN 2005