The Crop of 1909
Local Test Market - The Start of Something Big
The titles of these earliest Johnson exaggeration cards were copyright registered in October 1909. They were distributed in the towns around Waupun as a test market. These early cards had the hand-printed titles of "Crop of 1909" or "Raised at .." Most of these images were later printed and distributed nationally in the "How We Do Things" series. They were reprinted countless times for countless towns for many years.
The Early Fish Cards were the exception because they often included buildings in the background scene that could not translate to other towns. They were short-lived, and they are rare to uncommon. We are including them separately.
While many of these designs are very common, the original examples with the "Crop of 1909" label are very rare. All of the examples shown here are from the collection of Morgan Williams who acquired them in the 1980s. I have never seen any one of these available in the sixteen or so years I have been collecting. See the Morgan Williams article on the RPPC Cards for more detail
Exaggeration postcards are not unique to A. Stanley Johnson, but when he decided to try his hand in the exaggeration market, or as it was called then, the Novelty Freak genre, he started with these 1909 titles and marketed them in Waupun and other towns in his county. Apparently they were immediately successful because before the year was out, he had expanded his distribution network. It would be an interesting study to examine when the earliest postmarks appeared outside of his immediate area, state by state. How far did his sales travel and how fast?
The Crop of 1909 and the other early cards were real photo postcards. (RPPC) They were printed as photos on photographic paper specifically designed for postcards. Their clarity is much cleaner than later printed cards even though it is the same image. The titles were copyright registered 30 October 1909. Unlike the later "How We Do Things" series, which were stamped usually in red print, these were hand labeled with white lettering. Most of these titles remained prominent in Johnson's inventory and were produced for many years to come in print, rather than RPPC form.
The Williams collection may include several examples of each of the Crop of 1909 RPPC versions representing towns in the area around Waupun. That does not mean they were the only ones printed. We hope that by publishing this information, other collectors will come forward with examples that aren't in this collection. We just need a high resolution .jpg image with information about the postmark or other notable features.
This postally unused RPPC version of "Apples" carries neither the "Crop of 1909" nor the "How We Do Things" label. This scene was always a very popular one and was produced in printed version through Johnson's postcard career. This is one of only two or three that did not have a unique title. Both Apples and Grapes were used twice for different scenes in different years. See Collector's Checklist.
This example of "Our Corn" has the handwritten label "Crop of 1909 Raised at Beaver Dam, Wis." Postmarked Nov 26, 1909 (one of the first Johnson RPPC purchased and mailed). There are three other versions in the Williams collection. One is unlabeled and there is one for Waupun and one for Markesan, Wis. This also remained a very popular card with a long life in production under the printed How We Do Things designation.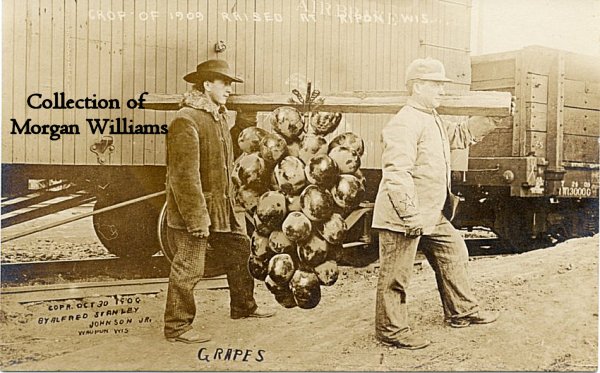 This early RPPC version of "Grapes" is labeled "Crop of 1909 Raised at Ripon Wis." It is postally unused.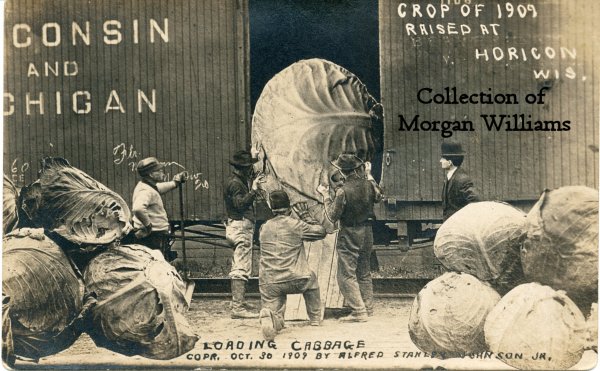 "Loading Cabbage" also had a long life in print. Their are five versions of the RPPC version in the Williams collection, four of which bear the "Crop of 1909" designation. They are for Ripon, Beaver Dam, Markesan, and Horicon. The Horicon and Beaver Dam cards are postmarked in December 1909, making them very early productions.
There are five RPPC versions of "Load of Cabbage" in the Williams collection including Raised at Beaver Dam, Ripon, Markesan and Waupun as well as one not labeled. The Ripon and Waupun cards are early postmarks, November and December of 1909 - hot off the press.
There are three versions of "Onions" in the Williams Collection. One has no label and is postmarked 04 NOV 1909, very early. The other versions are for Ripon and Brandon, as shown. This is one of the most frequently seen card in online auctions, but only in its later "How We Do Things" form.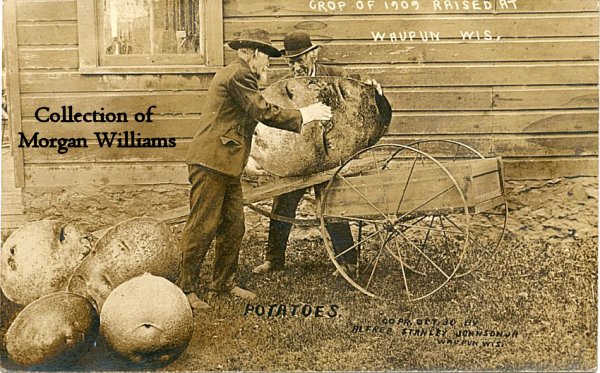 We are showing two versions of the RPPC "Potatoes" here to illustrate the variations you might run across. In the Waupun card "Crop of 1909" is near the top right corner. In the Beaver Dam card, it is below the window and the remaining part of the caption is in the upper right corner. Johnson had not yet developed any consistency in the placement of the captions as he did with the later "How We Do Things" stamp.
This RPPC example of "Sugar Beets" has no overprint on it. Postmarked Watertown, Wis, in 1910- Exact date not legible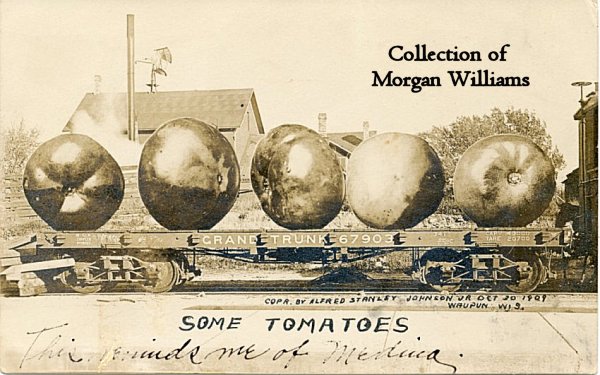 This is the only "Some Tomatoes" RPPC in the Williams collection. It has no caption other than its title. Even as a printed card, this is not commonly available. This one is postmarked Watertown, Wis, March 9, 1910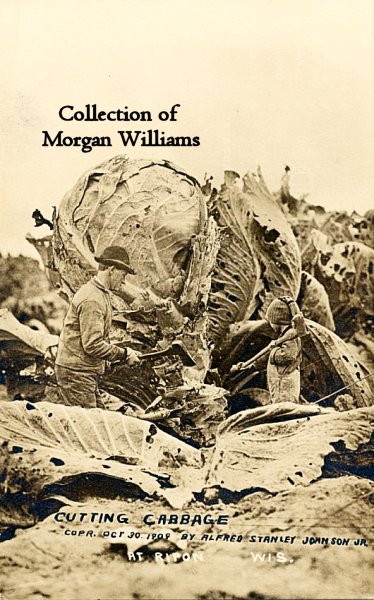 This RPPC version of "Cutting Cabbage" includes an overprint in white handwritten letters of "At Ripon, Wis." but it is not very prominent because of the light background.
This example is not postally used.
x
x