Tri-Counties Genealogy & History by Joyce M. Tice

Troy's Civil War Vets 1913
| | | |
| --- | --- | --- |
| Bradford County PA | Chemung County NY | Tioga County PA |
Joyce's Search Tip - January 2008

| | |
| --- | --- |
| | Do You Know that you can search just the 700 pages of Military Records on the site by using the Military button in the Partitioned search engine at the bottom of the Current What's New Page? |
Written on the Back
"Civil War Veterans marching to the Troy Depot to take the train for Gettysburg, Pa. where they attended a reunion of The Veterans of The Civil War, about 1913". "in the lower left, the third man with the little x at his left elbow is Papa" (Papa, of course, is Horace Johns)

| | |
| --- | --- |
| Detail Excerpts | |
A sight that made many forgotten memories come surging back, bringing tears to some and a great pride to others was the departure of the Civil War veterans for Gettysburg Monday.

The older residents recalled when Troy was a recruiting station during the war and squads of soldiers were leaving almost daily, some of them never to return.

Headed by the Troy Engine & Machine band, the grizzled soldiers marched to the station, some erect and strong but many leaning heavily on their canes. DeWitt LAMPMAN was the sole representative of the famous "Bucktail Regiment" and E. F. LILLEY and James VanBUSKIRK were the last survivors of Capt. B. B. MITCHELL's Company. At the station many comrades joined the marchers. Two sections went through before the train for the Troy veterans came and as they passed the station the windows were lined with grizzled faces. Hats were waved and greetings called back and forth, much as it must have been in wartime. The section for Gustin Post, G.A.R. came at 1:10 p.m., and cheered by the crowd of friends and relatives, about fifty three veterans left for the great reunion.

Among those who went were:

Maj. J. CL ROBINSON, L. J. BALLARD, E. C. BRINK, P.A. DARROW, G. L. GATES, L. J. BRADFORD, J. N. LAKE, E. F. LILLEY, O.C. HILFIGER, E.T. BUFFUM, John CANEDY, E. C. ELY, D. C. NEWELL, A. A. PIERCE, James HOLFORD, Charles McCABE, Lyman MC CLURE, U. A. SOPER, Daniel CHASE, Horace JOHNS, J. B. RAYMOND, Ira FANNING, J. M. BERRY, T. A. GAMBLE, Albert NEWELL, C. B. HULSLANDER, Smith PALMER, George VAN NESS, F. W. BULLOCK, W. W. BROOKS, W. S. HOLLAND, U. N. VERBECK, D. C. LAMPMAN, D. W. CASE, W. B. REYNOLDS, J. H. OWEN, James VAN BUSKIRK, E. L. LEWIS, R. A. McMAHAN, Newton HICKOK and William WORDEN. TGR July 4,1913
---
Note from Don Stanton February 2006:
Joyce - I have found a newspaper clipping with this same photo (the top one
on your above site). The article is undated, but it is the Troy Gazette-Register when C. Dixon Avery was editor.The caption under the picture reads: "Waldo Brooks (first), Liston Bliss (second), on the left. Horace Johns (third), Charles Hulslander (fourth), George Van Ness (fifth), Wesley Reynolds (sixth) in the line of marchers at the right."

The article is titled - "Civil War veterans off on a march?"
"This picture of the Civil War Veterans who were on a march in Troy, Pa., 'all of 25 years ago' came to light at the office of the Troy Gazette-Register the other day. It was unidentified. Consulting some of the 'old timers' around the borough such as George McKean, Percy King and Clyde Dewey, only a few of the names could be connected with the many men shown in the photograph. Mr. Dewey remembers taking the picture, but he could identify only a few of the marchers. He snapped the photo from the second floor of the building now occupied by the Gazette-Register, and where his office as Justice of the Peace is located.
Perhaps, some of the readers of The Gazette-Register can shed some light on the occasion of the parade and even give the names of all the marchers. Your information will be gladly welcomed."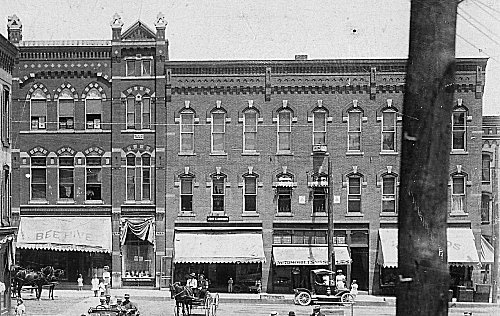 This is an excellent view of the Oliver Block.
This space is now occupied by the Bank on the left and a parking lot.
| | | |
| --- | --- | --- |
| Bradford County PA | Chemung County NY | Tioga County PA |

Published On Tri-Counties Site On 01/25/2004
By Joyce M. Tice
Email Joyce M. Tice

You are the visitor since the counter was installed on 25 JAN 2004