Cut and Paste With Precision
Scissors and Glue
The Waupun Historical Society has several of the original cut and paste products. Steve Biever tells us "The actual pasted up images that were made into postcards were all about 6x8 inches. The backing material is a thick cardboard about 1.5-2x as thick as current matt board. The enclosed melon image in as-scanned colors shows how some of the larger-than-life pieces ran over the background image. "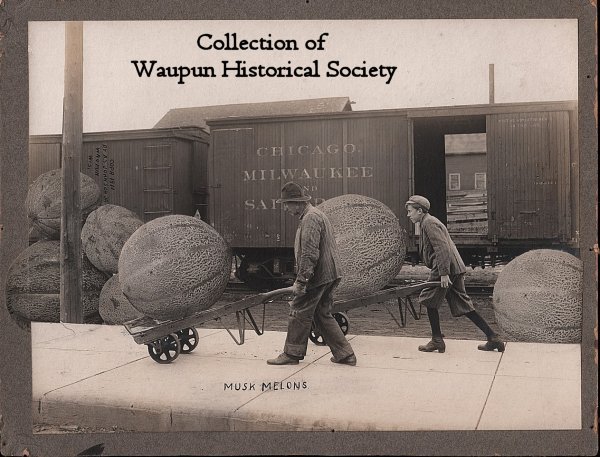 Examining the final images carefully, we can see the painstaking precision of the cutting. Also, understanding the dimensions of the original image Johnson actually worked with, gives us a better scale. The 8x6 or 6x8 working models were reduced to approximately 4.5 x 3.5 for the printed card.
The "Our Hero" original work below is compared to a dollar bill to illustrate scale of the working image.
This is a section of the original photo that Johnson first created in his imagination and then posed and then added his exaggerated images. What a treasure that the Waupun Historical Society has recently discovered this treasure in their collection. Wow!!!

Compare to final card
This image of a section of Sliceing Tomatoes shows the added tomatoes and is in high enough resolution to see the cut and pasted edges of them. Johnson also manually outlined the portion of the saw that is above the tomato, probably to make it appear the same as the lower part of the saw that had to be cut to fit in the tomato.