Snow and More Snow
The Winter Scene Series of 1918
This series includes 8 cards all of which were copyright registered titles. The advertisement below appears on the back of the card entitled "No Dust."
As of this writing, we have five of the images from Morgan Williams. For the other three, we have titles only. This appears to be a very rare series. All five of the images in our collections are marked for Waupun. We would be very interested in having additional images or examples of other towns if anyone has them.
We have more than eight titles that we have guessed to be on the Winter series, but until we see a copy, we can't be sure. Johnson's ad says there are only eight.
The three copyrighted titles in this series that we have not seen include: "Digging Out," "Winter," and possibly "I Remember in '88," or "On Time." The registered title of "Keep Track Clear" is the same as the labeled card "The Track is Clear."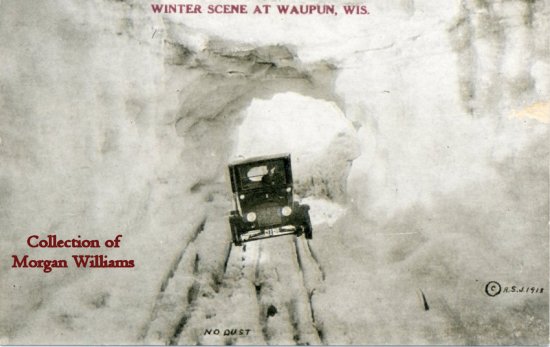 Advert6isement on the Back of a "No Dust" card

HERE IS A NEW SERIES

Eight designs of deep snow.

We have juggled the camera so that the

snow looks twenty or thirty feet deep.

We print on them WINTER SCENE AT the name of your town. There are no winter post cards on

the market and these are good ones.

Price 100-$1.25 200-$2.25 300-$3.00 1000-$9.00

Johnson Postcard Works, Waupun, Wisconsin

Printed on the left side of the card - vertical - is - Copyright by A. S. Johnson 1918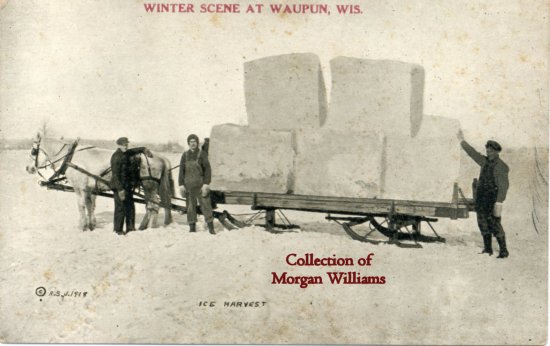 Ice Harvest 1918
Street Scene 1918
Sleet Storm 1918. We do not have an original copy, only a photocopy. At least we know what the card looks like.
Keep the Track Clear 1918 - Photocopy only. The Copyrighted title is "Keep Track Clear," although the printed title on the card is "The Track is Clear."